Help us to understand what you are doing so we can fund you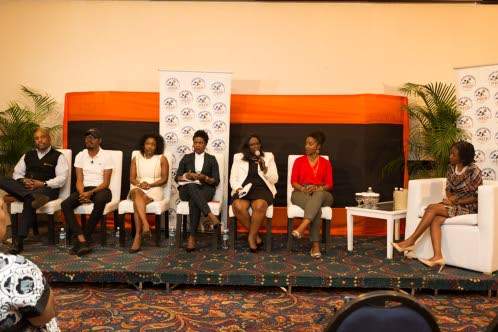 …financier advises players in the orange economy.
In a forum geared towards addressing the issue of funding and the concerns of creatives held last Tuesday (November 19), members of the creative industry came out to learn about the different ways through which they can raise capital to finance their businesses.
The forum dubbed 'Raising Capital' staged by the Jamaica Business Development Corporation (JBDC) as a part of its week-long global entrepreneurship celebrations aimed at providing thought-provoking discussions on financing the orange economy and determining whether there was cash for creatives, also aiming to bridge the gap between financiers and entrepreneurs.
The orange economy or what is more popularly known as the creative industry is the inter-play of human creativity and ideas and intellectual property knowledge and technology. It consists of knowledge-based economic activities on which the creative industries are based including architecture, art, designs, music, dance, film, fashion, podcasting etc; most of which are considered an important source of not only cultural, but commercial value.
According to statistics quoted by Andrea Dempster-Chung, founder of Kingston Creatives, the creative sector provides some $2.5 trillion in revenues and employs more than 40 million people globally, accounting for an estimated three per cent of the world's gross domestic product (GDP).
Herbert Hall, vice-president of investments at NCB, representing the financial sector told members of the orange economy that they must be organised if they are to be considered investable, also urging them to work alongside the financiers in helping them to better cater to their needs.
"The larger issue is not whether or not funding is available, but how it is accessed, we have put the necessary structure and strictures in place to enable creatives to be funded. Help us to understand what you are doing so that we can fund you," he petitioned members of the industry.
"Until we in the financial stage understand a little bit more then we are going to have that gap. It's not a gap about whether or not funding is available, it's a gap about understanding creatives and how we put the necessary structures in place to access that financing."
In conceding that the sector was indeed undercapitalised, he said that the current financial landscape is awashed with cash from which creatives can take advantage given they put proper structures in place.
"Financiers need to find a structure, something that is attractive to investors who want a return, something that has some form of history that people can actually look at it as a track record. Whether you are a large or small corporate, it's the numbers that matter— how many clients, revenue potential; investors are going to invest, not to lose money but to secure a return on their investment. This is the same money that will be used to maximise creative projects," he further said.
Marissa Benain, director of cultural policy in the Ministry of Culture, shared that several grants and incentives were also provided by Government in the form of incentives, tour support, endorsement letters and several other measures employed by the ministry to give support to the sector, however, she also stressed that there are guidelines and structures to which parties must adhere.
Melissa Bennett, business advisory services manager at the JBDC who chaired the panel discussions said that her company, which has been supporting entrepreneurs for the past 19 years saw it fit to host such a forum as discussions must commence around the level of support given to what they deem a poorly financed sector. She thereby urged creatives to organise themselves in order to take advantage of the opportunities available.
"We have been pushing a lot of support in pushing them forward, so that they may be able to explore the opportunities available to them," she said.