How To Make Authentic Jamaican Jerk Chicken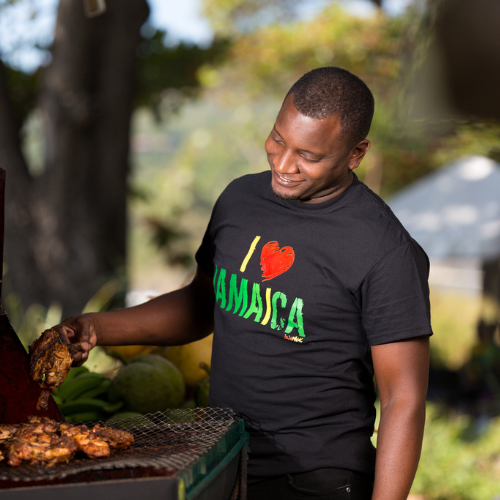 Jerk Chicken is ubiquitous in Jamaican culture. From the pan-chicken-man in Jamaica to high-end restaurants around the world, Jerk chicken is a bona fide Jamaican recipe that has taken the world by storm. Its unique blend of spices and herbs, combined with slow cooking over a smoky fire, makes it a dish that is both delicious and satisfying. Whether you are a fan of spicy food or simply enjoy the taste of juicy, tender chicken, jerk chicken is a dish that is sure to please.
The origin of jerk chicken can be traced back to the Arawak and Taíno indigenous people of Jamaica, who used a combination of spices and herbs to preserve and flavour their food. When enslaved Africans were brought to Jamaica in the 17th century, they added their own spices and techniques to the mix, creating a unique and flavorful dish that has become a staple of Jamaican cuisine.
One of the key components of jerk chicken is the use of pimento seeds, also known as allspice berries.  Pimento seeds are native to Jamaica and have a unique, woody flavour that combines the tastes of cinnamon, nutmeg, and cloves. The pimento seeds add depth and complexity to the flavour of the marinade, and is what sets jerk chicken apart from other chicken dishes.
1 whole chicken (cut into pieces)

2 tablespoons pimento seeds (A.K.A. allspice berries)

2 tablespoons dried thyme

2 scotch bonnets peppers

1 medium onion

4 cloves garlic

2 tablespoons dark brown sugar

2 teaspoons salt

1 teaspoon ground cinnamon

1 teaspoon ground nutmeg

1 teaspoon ground ginger

1 teaspoon ground black pepper

1/2 teaspoon ground cloves

1/2 teaspoon ground coriander

1/2 teaspoon cumin

1/4 cup white vinegar

1/4 cup soy sauce

2 tablespoons vegetable oil

1 lime (juiced)
Instructions:
In a food processor or mortar and pestle, grind the allspice berries, dried thyme, scotch bonnets, onion, garlic, dark brown sugar, salt, cinnamon, nutmeg, ginger, black pepper, cloves, cardamom, coriander, and cumin into a smooth paste.

In a large bowl, mix the ground spice mixture with the white vinegar, soy sauce, vegetable oil, and lime juice to make the marinade.

Add the chicken pieces to the marinade, making sure each piece is fully coated. Cover the bowl and refrigerate for at least 2 hours or overnight.

Preheat the oven to 400°F. Line a large baking sheet with aluminum foil and place a wire rack on top.

Remove the chicken pieces from the marinade and place them on the wire rack, skin-side up.

Bake in the oven for 40-45 minutes, or until the chicken is cooked through and the skin is golden brown and crispy.

Serve hot with rice and your favourite sides. Enjoy!